COME TOGETHER | Inner-City Arts Repertory Dance Company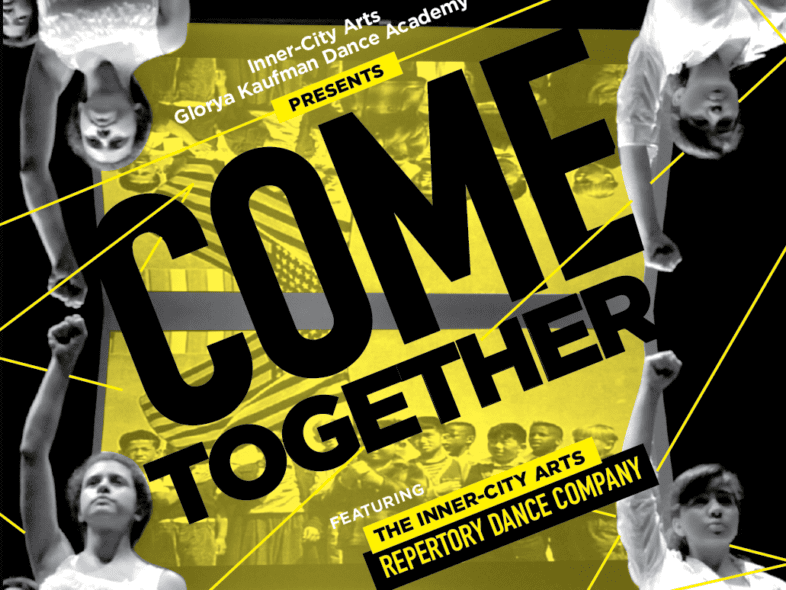 ---
Saturday, April 22, 2017
07:00 pm - 09:00 pm
---
720 Kohler St.
,
Los Angeles, CA
Presented by Inner-City Arts Glorya Kaufman Dance Academy
We, the people, create history, dream of our future, build bridges, condemn fear, inspire hope, unite in love and equality. We, the people, must come together.
Artistic Director & Choreographer:
Marissa Herrera
Production Staff:
Dolores Chávez, Beth Tishler | Producers
Justin Huen | Lighting Design
Tilted Screens | Video Design
John Miyasaki | Stage Manager
Moises Garcia | Costume Assistant
Michelle Sung | Dance Assistant
Inner-City Arts Repertory Dance Company:
Erika Andrade
Giselle Barrios
Lilian Fernandez
Jose Flores
Anthony Gutierrez
Ericka Hernandez
Armando Lopez
Virginia Lopez
Maylee Martinez
Maia Melendez
Israel Mora
Willy Vargas
For more information, contact: Marissa@inner-cityarts.org
This event is free and open to the public.
Special thanks to: Los Angeles Department of Cultural Affairs, The Glorya Kaufman Dance Foundation, Los Angeles County Arts Commission and The Rosenthal Theater
The Inner-City Arts Glorya Kaufman Dance Academy empowers students to use dance as a means of communication. Through dance, they are able to tell their stories as individuals, as young leaders and to address issues in their community. The dance pieces that students create are meant not just to be performances, but an exchange of energy with our audience to create community, empathy and hope.