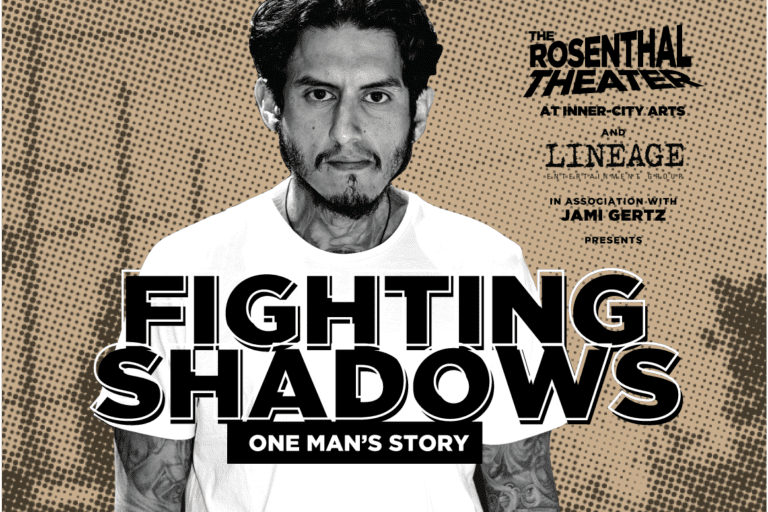 ---
Start: Friday, October 19, 2018 08:00 pm
End: Sunday, November 4, 2018 07:00 pm
---
720 Kohler St.
,
Los Angeles, CA
The Rosenthal Theater at Inner-City Arts
and Lineage Entertainment Group
in association with Jami Gertz
presents
Fighting Shadows
One Man's Story
Written by Richard Cabral with Robert Egan
Directed by Diane Rodriguez
Thursday, October 18 – Opening Night | Invitation-only
Friday, October 19 • 8pm
Saturday, October 20 • 8pm
Sunday, October 21 • 2pm
Thursday, October 25 • 8pm
Friday, October 26 • 8pm
Friday, November 2 • 8pm
Saturday, November 3 • 8pm
Sunday, November 4 • 2pm & 7pm
Purchase your tickets here.
---
Fighting Shadows is a passionate and poignant one-man show celebrating the power of human redemption and transformation.
FIGHTING SHADOWS is the true story of one man's search for love in a world meant for breaking, not bending. A brutal, truthful account of Emmy-nominated actor Richard Cabral's early life as a notorious gang member in East LA, Fighting Shadows follows his life-affirming transformation out of the shadows of gangs, prison, and violence, and into a new world of family, art, and love. Armed with only his own tremendous will and the good work of Homeboy Industries and Father Greg Boyle, Richard's story illustrates the possibilities of marginalized lives to reclaim spirit through poetry, music, and raw storytelling.
Director: Diane Rodriguez
Set Design by: Efren Delgadillo Jr.
Lighting Design by: Tom Grond
Projection Design by: Yee Eun Nam
Sound Design by: Luis Guerra
Special thanks to The Sheri and Les Biller Family Foundation.
---
Limited parking and street parking on Kohler St.
For more information, please contact Dolores Chávez | dolores@inner-cityarts.org | 213.627.9621 x 140