Fighting Shadows: One Man's Story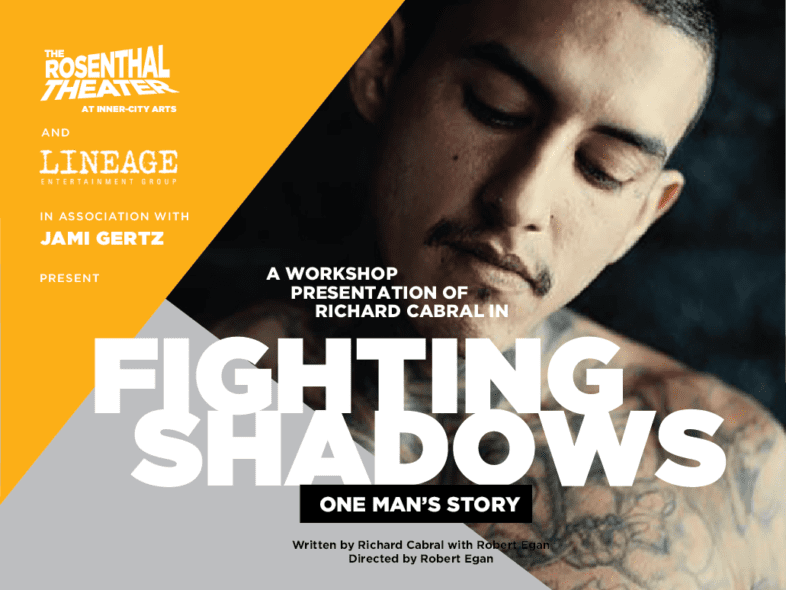 ---
Start: Saturday, July 8, 2017 12:00 am
End: Sunday, July 9, 2017 12:00 am
---
720 Kohler St.
,
Los Angeles, CA

,

United States
The Rosenthal Theater at Inner-City Arts and Lineage Entertainment Group in Association with Jami Gertz
Presents a Workshop Presentation of
Richard Cabral in FIGHTING SHADOWS – One Man's Story
Written by Richard Cabral with Robert Egan Directed by Robert Egan
Saturday, July 8 @ 8PM & Sunday, July 9 @ 7PM
FIGHTING SHADOWS is the true story of one man's search for love in a world meant for breaking, not bending. A brutal, truthful account of the Emmy-nominate actor Richard Cabral's early life as a notorious gang member in East LA, Fighting Shadow follows his life-affirming transformation out of the shadows of gangs, prison, and violence, and into a new world of family, art, and love. Armed with only his own tremendous will and the good work of Homeboy Industries and Father Greg Boyle, Richard's story illustrates the possibilities of marginalized lives to reclaim their spirit through poetry, music, and raw storytelling.
Richard Cabral won the coveted Lo Maximo Homeboy Hero Award from Homeboy Industries, which celebrates the gang member who most profoundly transformed his life. Fighting Shadows was originally developed and written with award-winning director and dramaturg Robert Egan at the Ojai Playwrights Conference.
Special Events curated by The Roots and Wings Project
The Roots and Wings project invites audience to participate in a pre-show workshop, an interactive lobby experience and a guided post-show discussion with the artist. These offerings promise a joyous journey into a deeper look at love and the transformative healing capability and strength of the human spirit.
Also available is a Creative Exploration Guide that will further illuminate the themes and questions that the show elicits.
RSVP HERE: http://www.fightingshadows2017.eventbrite.com
For additional information contact Dolores Chavez at Dolores@inner-cityarts.org / 213.627.9621 x140 or Jesse Bliss at therootsandwingsproject@gmail.com