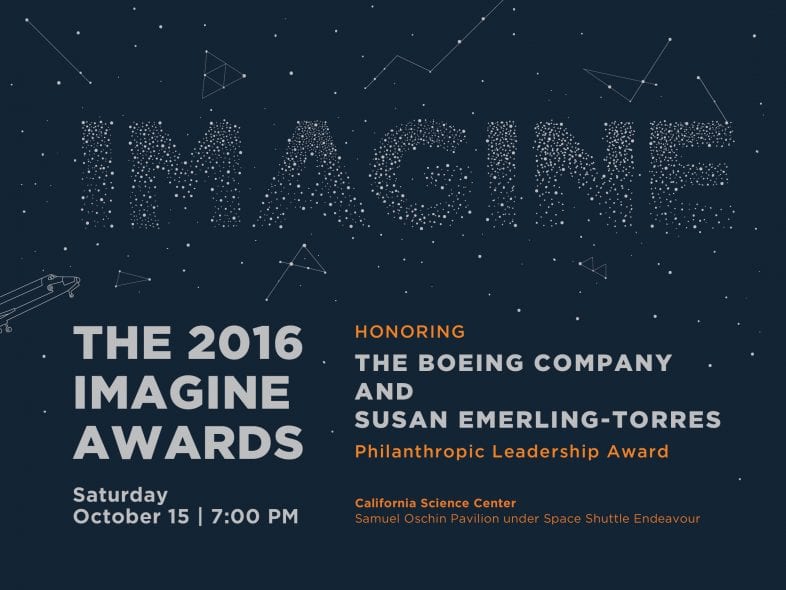 ---
Saturday, October 15, 2016
07:00 pm - 11:00 pm
---
Exposition Park Drive
,
Los Angeles, California

,

United States
+ FOR SPONSORSHIP OPPORTUNITIES AT IMAGINE AWARDS
Join us for a night of dinner, drinks and dancing under Space Shuttle Endeavour and help Inner-City Arts shoot for the stars!
By engaging young people in their own creative process, Inner-City Arts is helping shape a society of creative, confident and collaborative individuals who dare to IMAGINE a future filled with possibility.
Join us as we celebrate the transformational work of Inner-City Arts, and honor the philanthropic commitment of The Boeing Company and Susan Emerling-Torres.
2016 Imagine Awards Honorees:
The Boeing Company and Susan Emerling-Torres
The Philanthropic Leadership Award
Saturday, October 15, 2016  |  7:00 PM
California Science Center
Samuel Oschin Pavilion under Space Shuttle Endeavour
700 Exposition Park Drive  |  Los Angeles, CA 90037
Hosted by:
Andrea Fiuczynski
Executive Vice President / Chairman, Americas
Sotheby's
Featuring a Special Art Auction curated by Katerina Tana.
The Imagine Awards is Inner-City Arts' signature fundraising event. All contributions directly support Inner-City Arts' work in providing arts education for underserved youth in downtown LA.
2016 Imagine Awards Honorary Committee:
Bill and Tamara Bagnard
Boris Beljak Jr.
Alan Berro
Carol G. Emerling
Keith Emerling
Andrea Fiuczynski
Linda Hothem
The Jaeger Family
Marilyn and Jeffrey Katzenberg
Rachel Levin
Melanie and Richard Lundquist
Michael Maltzan and Amy Murphy
Paula and Paul Reiser
Monica and Philip Rosenthal
Steve and Cathi Shultz
A. Thomas Torres, AIA
2016 Imagine Awards Event Committee:
Silvia T. Marjoram |  Committee Chair
Jon Basalone
Vera Campbell
Eric Coleman
Mithra Sheybani
Katerina Tana
Joni Topper
Imagine Awards Sponsors:
IMAGINE SPONSORS:
The Boeing Company
Rosenthal Family Foundation / Monica and Philip Rosenthal

PREMIER SPONSORS:
The Walt Disney Company

DIAMOND SPONSORS:
Appelbaum-Kahn Foundation
Bright Sourcing Group / Roger Ni
Vera R. Campbell Foundation
Carol G. Emerling
Kirkland & Ellis Foundation / Rick and Jennifer Madden
The Lee Graff Foundation
U.S. Bank / Joe Sanford

PLATINUM PATRONS:
JPMorgan Chase / Al Brooks / Joni Topper
Doug and Robin Hinchliffe
Shanghai Nine Tripod International Trade Co, Ltd. / Andy Liu
Trader Joe's / Jon Basalone

GOLD PATRONS:
AEG / Martha Saucedo
American Business Bank / Silvia Marjoram
Anonymous
Bel Air Investment Advisors, LLC / Ron Silverman & David Sadkin
Bill and Tamara Bagnard
Boris Beljak Jr.
Craig and Marion Benell
Alan Berro
The Capital Group Companies, Inc. / Alan Berro
Eric and Kelley Coleman
Continental Development Corp. / Melanie and Richard Lundquist
Emerling-Torres Family
FOSart / Linda Hothem
The Jaeger Family
Marilyn and Jeffrey Katzenberg
Kody Brand / Cathy Trinh
KWDZ Manufacturing, LLC / Vera R. Campbell
Sherry Lansing and William Friedkin
Lear Family Foundation / Lyn and Norman Lear
N & H Apparel / Nancy Yang and Hanna Yu
Oneworld Star International Holdings / (OSI) One World, Weavers, APS
Rosenthal & Rosenthal / Harry Friedman
Steve and Cathi Shultz
Tempted Apparel / Steve Schoenholz
Wells Fargo / Susan Luehrs
Wells Fargo Capital Finance

SILVER PATRONS:
356 Mission Road LLC / Laura Owens and Gavin Brown
The Anenberg Family
California United Bank / Sam Kunianski
Mark Borman and Karen Hermelin
Buchalter Nemer / William Schoenholz
Crowe Horwath LLP / Jay Mangel
Daum Commercial Real Estate Services
E-Luck Apparel, Inc. / Peter Chan
Cooper Design Space / Steve Hirsh
Karen Kane, Inc. / Lonnie Kane
The Sage Group LLC / Fred Schmitt and Mark Vidergauz
Self Esteem Clothing / Richard Clareman
SHUSTER FINANCIAL GROUP, LLC
Robert M. Smiland
STX Entertainment / Noah Fogelson
Ross Stores
SWAT Fame, Inc.
BRONZE PATRONS:
East West Bank
Christopher Guy / Paul Watson
Desert Management / Jim Lewis
Grosslight Insurance, Inc. / Steve Schiewe
The Hale Foundation
Lily Bleu / Barbara Cambilargiu and Michael Weiss
Linear City Development / Yuval Bar-Zemer
Michael Maltzan and Amy Murphy
Pilgrim School / Laurence K. Brown
SPECIAL THANKS TO: 
Enhanced Cellular Design
Don Francis Conservation Framing