LA: In Dialogue | In collaboration with The Getty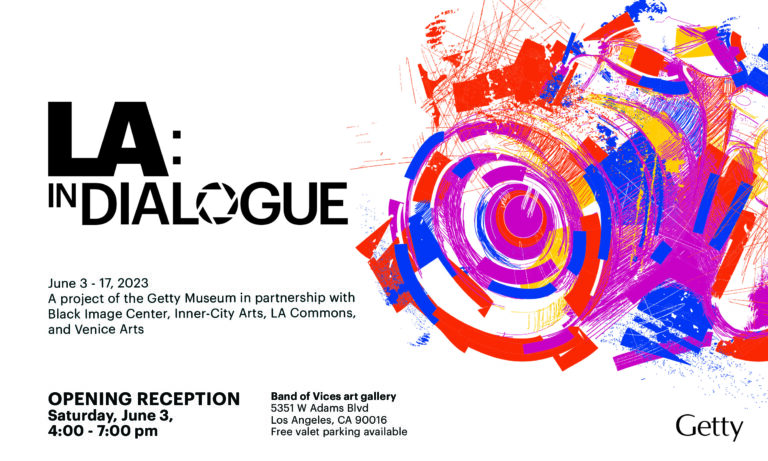 ---
Start: Saturday, June 3, 2023 12:00 am
End: Saturday, June 17, 2023 12:00 am
---
5351 W. Adams Blvd
,
Los Angeles, CA
The Getty Museum has partnered with four local non-profit organizations across Los Angeles—Black Image Center, LA Commons, Venice Arts, and Inner-City Arts—to present LA: In Dialogue, on view at Band of Vices Gallery June 3 through June 17, 2023.

The Museum worked with these four organizations to create educational opportunities for artists throughout the city. Artist-led workshops offered learning opportunities inspired by the exhibition Dawoud Bey & Carrie Mae Weems: In Dialogue, on view at the Getty Center through July 9, 2023. Classes focused on a variety of topics: black and white photography, portraiture and capturing place. They investigated themes of identity, race, power, and important but often overlooked American histories. Together, the participating artists collaborated with their peers and explored their communities.

Band of Vices gallery is located at 5351 W Adams Blvd, Los Angeles, CA 90016 and is open Wednesday through Saturday 12:00 to 5:00 PM.
Photo credit:
Left: The Edge of Time—Ancient Rome, 2006, Carrie Mae Weems. Chromogenic print, 73 × 61 in. © Carrie Mae Weems. Courtesy of the artist and Jack Shainman Gallery, New York. EX.2023.2.111. Right: A Young Man Resting on an Exercise Bike, Amityville, NY, 1988, Dawoud Bey. Gelatin silver print, 20 × 24 in. © Dawoud Bey. Courtesy of Stephen Daiter Gallery. EX.2023.2.33