Learning Through Movement, Kinesthetics, and Dance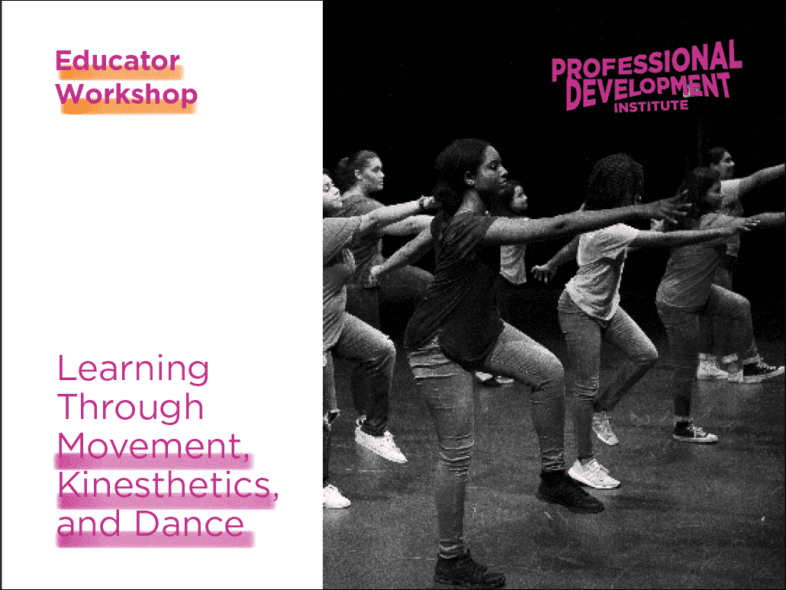 ---
Wednesday, October 20, 2021
04:00 pm - 05:15 pm
---
Learning Through Movement, Kinesthetics, and Dance
Dance in the classroom just means using movements our bodies already know how to do. No dance steps required!
Don't be afraid of the "D" word: dance. In this fun and easy workshop, you'll experience how to bring useful, meaningful learning through movement and kinesthetics into your classroom. We will completely redefine what it means to integrate dance into a learning space and you don't even need to know how to dance at all. You will come away with immediately applicable strategies for integrating dance into learning, and you'll never have to learn a single dance step! Really? Really! Seriously? Seriously!
Have you been wondering what to do for that presentation or performance by the whole class? THIS workshop can give you a solution for that. Want to incorporate multiple modalities of learning in your classroom? This is how to do it. Come check it out. Your students will love it.
Inner-City Arts always uses the arts as the starting point for learning. No prerequisite knowledge is needed. All workshops are interactive and hands-on, even online.
WEDNESDAY, OCTOBER 20, 2021
4:00-5:15 PM | ONLINE EVENT
Join us for the rest of our Fall workshops!
ABOUT THE FACILITATOR: Associate Director of Professional Development, Tiffany Owens, designs and leads adult learning at Inner-City Arts, which includes training for educators, parents, guardians and other adults who support students in arts, arts-integration, academics, Social Justice, Social and Emotional Learning (SEL) and other areas of pedagogy. She also leads and supports internal staff development for Inner-City Arts. Tiffany is a veteran credentialed educator and administrator, Drama teaching artist, actor, event producer, and adjunct faculty at Antioch University Los Angeles and Santa Barbara.
With special thanks to our supporters who make the Professional Development Institute possible: