Our community of friends have developed numerous creative ways to raise critical funds for our young people over the years.
You can show your passion for equity and access to arts education by supporting these current and recent fundraisers below. If you are feeling inspired and want to take action, we can help you host your own.
THANK YOU, FUNDRAISING SUPPORTERS!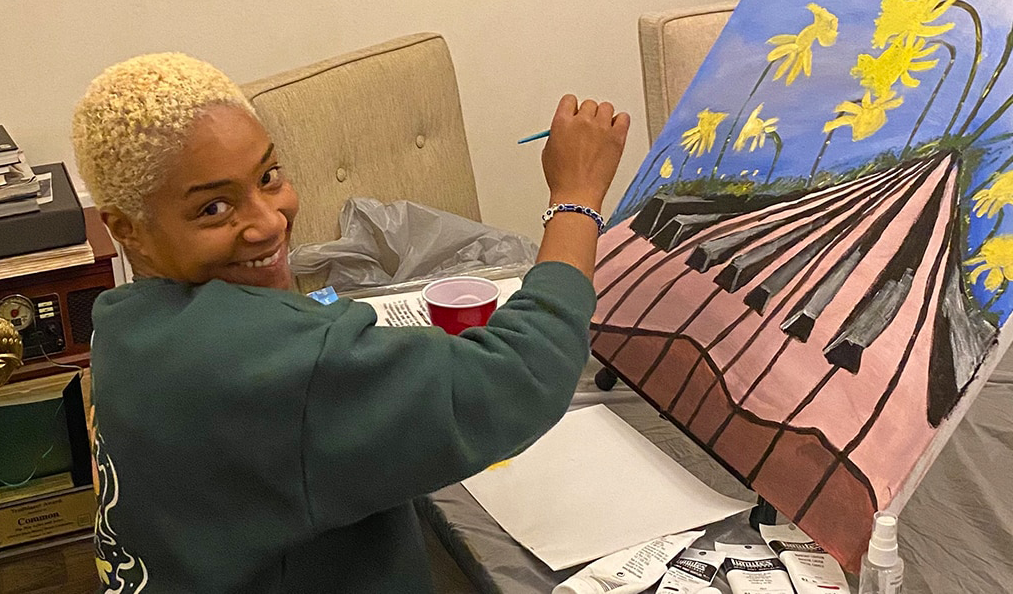 Photo courtesy of Painting With The Stars
"I remember what it was like as a kid to do arts and crafts, and I remember what it was like to not be able to do so. So I want to be able to make sure all kids have the opportunity to create."

-Tiffany Haddish for Painting With The Stars
Below are some fundraisers that have supported Inner-City Arts:
Painting With The Stars
From July 21 through August 4, you can support our mission by bidding on artwork from stars such as Tiffany Haddish, Common, and Jennifer Love Hewitt as well as our own students with proceeds benefitting Inner-City Arts.
Studio Number One / notNeutral
Studio Number One teamed up with local specialty coffee design team notNeutral to design a limited-edition Lino mug for their special Artist Series. A portion of proceeds from the series were donated to Inner-City Arts.
Good Mythical Morning
In November 2020, Good Mythical Morning hosted their first all-day livestream fundraiser where they and their 17 million subscribers raised more than $354,000 that went to Inner-City Arts.
Jim Mortensen's Storyboard Tips
Nickelodeon producer and animator Jim Mortensen created a 50-page packet of storyboarding tips and tricks, including POV and cinematic shots, with proceeds going to Inner-City Arts.
Head in the Clouds Festival
A $1 donation per ticket from the November 2021 music festival will be donated to Inner-City Arts
CREATE YOUR OWN FUNDRAISER
Create a Facebook Donation Campaign
Share why Inner-City Arts matters to you, set a funding goal, invite your friends and colleagues, and 100% of the dollars you raise will reach us directly.
Watch our step-by-step guide and then start your campaign.
Host Your Own Benefit
Present your own virtual event—professional, civic, or entertainment—and designate Inner-City Arts as the beneficiary of ticket sales.
Launch a Peer-to-Peer Fundraiser
Would you like to motivate your friends and colleagues to give through a personalized campaign page? Ask us about our peer-to-peer platform.
Donate Proceeds from Merchandise
Artists and retailers! Donate net proceeds from the sale of your merchandise on your e-commerce platforms or custom order marketplaces like Bonfire (apparel designs).
Auction Items of Value or Host a Sweepstakes
With online platforms like RallyUp or 32 Auctions, you can easily create crowdfunding, silent auction, and giveaway fundraisers by donating items of major value.
JOIN US AND HELP US KEEP THE ARTS ALIVE
"We offer a home away from home where young artists support each other, encourage one another, and create – together."
– Marissa Herrera, former Inner-City Arts Teaching Artist