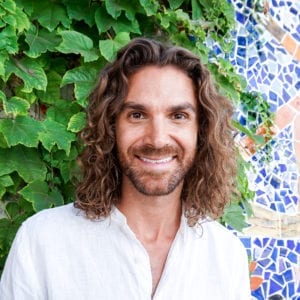 Michael Sample is grateful to work alongside the team at Inner-City Arts. He has spent the last 15 years of his career working in arts education, developing programs for children, families, and educators with international nonprofit organizations. Prior to his work in the education and nonprofit sector, Michael was an award-winning professional actor, performing in NYC, US-based tours, and TV/Film. As a musician, Michael is professional vocalist, composer, music director, and has served as a choral clinician with vocal ensembles around the world.

In 2008, Michael founded an arts-centered nonprofit organization, Project Creo (Creo in Spanish means both I believe and I create; the initiative started in Ecuador and was focused on teaching youth important messages through the arts such as believing in oneself and creating positive change). Michael has been working in Ecuador for over 20 years, and developed the arts center now known as Artisteca with CRISFE of Banco Pichincha and Diners Club International, which provided arts programs for youth, families, and teachers in various locations throughout the country. Following Ecuador, Michael worked with the Shanti Bhavan Children's home in India, and supported the development of Maya, an original Broadway-style musical for youth with Teach for India and Actors Striving to End Poverty. He served as a teaching artist in the public school system in India, and facilitated professional development for educators. Michael has served as a Pedagogy Specialist for the nonprofit Lead for Ghana for the last 6 years, training new teachers before they embark on a 2-year fellowship teaching in rural areas of Ghana, working towards an equitable education system for Ghanaian youth. His arts education work has also included teaching and directing programs in China, Nepal, Peru, and Mexico. In the US, Michael worked in NYC as a teaching artist and researcher with the Metropolitan Opera Guild, a Director with TADA! Youth Theater, and the Summer Conservatory Director for the Tony-award winning nonprofit organization Broadway for All. He also served as a music therapy facilitator for cerebral palsy clients of United Cerebral Palsy of NYC.

As a professional choral director and composer, Michael has served as a clinician with vocal ensembles internationally, including supporting the Grammy-nominated singer Chandrika Tandon and Soul Chants music with the development of the first ever Hindu choir in NYC and performance at the World Culture Festival in Berlin. He published a choral piece in celebration of the Tsachila indigenous community in Ecuador, with whom Michael lived and volunteered, and proceeds of the publication go to supporting the preservation and promotion of Tsachila culture.

Michael has recently focused his work on supporting the mental health of young people through arts programming and media production. This has included the development of a mental wellness program at Inner-City Arts in partnership with Para Los Niños, as well as collaborating with the Work of Art performing artists and Dreamworks Animation to produce Rated Z for Everyone, a webseries for Gen Z focused around important mental health topics. He has recently been certified as a volunteer crisis counselor for youth. Michael believes children are our hope for a better world and investing in their thriving is the best investment we can make as we work towards a more loving world.