We want to (re)introduce you to all of the wonderful people who together make Inner-City Arts a magical organization! Our Staff Spotlights help recognize and celebrate our team members and the amazing work that they do.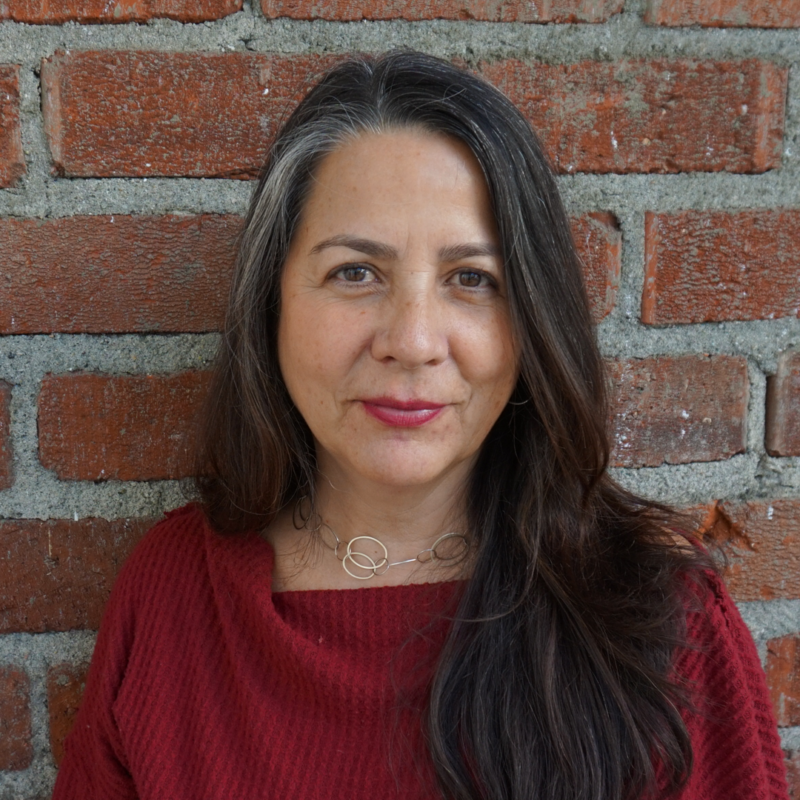 Eva Perez
Meet our visual arts Lead Teaching Artist Eva Perez! Eva has been teaching in our visual arts studio for nearly 30 years where her knowledge and dedication have made life-changing moments for her students.
Find out more about her and her journey as an artist and educator below!
What does creativity mean to you?
We are, by nature, creative beings. Creative expression connects us to ourselves and helps us make connections to the world around us. Yet our educational system does not teach us how to think creatively. Art enhances cognition, self-expression, and problem-solving skills and has the power to generate empathy and self-awareness. These are skills necessary to succeed in the 21st Century and build well-rounded, more compassionate, and accepting individuals and communities. In addition, when young people engage in the creative process, they can dream, envision, and transform their worldview into different possibilities. And that in itself can help them shape their identities and have a transformational effect as individuals and for the benefit of their communities.
What led you to be a teaching artist?
Teaching and art have been interwoven into the core of who I am since childhood. I loved to play teacher with my little sister and her friends from an early age. Art education has been a great way of combining these two passions of mine. While still in college, I was invited by a family friend to teach some children's workshops at her school. There, I soon became the "clay teacher," the name my little artists called me.
I paid my way through school, giving workshops in various venues. Then, in the mid-nineties, I was hired to be a full-time teaching artist here at Inner-City Arts.
What do you believe to be your greatest strength in your classroom?
As an arts educator for over 28 years, my job, first and foremost, is to create a safe space for my students to grow in their creative processes. In my studio, I create an emotional environment where students can make mistakes without judgment and are given space to solve problems creatively. Without this space, transformation through the arts isn't possible.
How does art and creativity inspire your life?
Throughout my life's journey, creativity has positively influenced every aspect of my life. For example, it has helped me feel more confident in my ability to develop different solutions to a problem and think critically. It has made me more self-aware and conscious of who I am as an individual, providing me the ability to see and appreciate others with empathy. It has provided a perspective of the world around me and a unique way of expressing myself through my artwork. That is why I believe Inner-City Arts has the ability to positively influence, transform, and make a profound impact in all of our students' lives.