We could not have asked for a more beautiful morning in Downtown Los Angeles this past Saturday, when we welcomed in hundreds of new students from the LAUSD Partnership for Los Angeles Schools to our campus for a once-in-a-lifetime opportunity to paint with world-renowned Panamanian artist, and friend of Inner-City Arts, Olga Sinclair!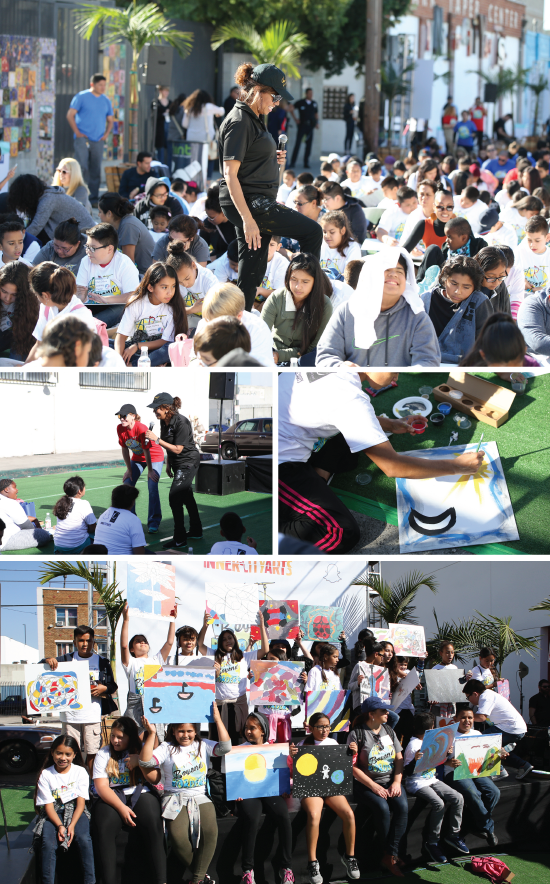 [
VIEW MORE PHOTOS HERE
]
Together, we took art advocacy to the streets — literally!
Thanks to all of our friends at FOSart, a fantastic staff and production team, and more than 90 volunteers, we transformed campus-adjacent Kohler St. into a lovely park-like venue for the students to paint and explore their own creativity in.
The morning opened with an exciting welcome from LAUSD Board President Mónica García. Olga then shared a fantastic introduction about what art means to her and began her class by leading students through a mindful moment of music and meditation. Supplied with personal paint kits, canvas boards, and pieces of charcoal, the students enthusiastically painted their own unique creations — a first for many of the kids.
"We have to create a new generation of children with sensibility, love and care. Art is the most important weapon to create that." – Olga Sinclair
The event garnered coverage over the weekend from several media outlets including KABC, KNBC, and KPCC. Our hope is that, as our story and mission continue to be shared with those in our city, we can bring awareness to the creative needs of students in underserved communities.
Thank you to everyone who helped make this event a success. We look forward to the next opportunity to advocate for and make art together!