From Grimy Goods's "Inner-City Arts' Summer on 7th Bustles With Joy With Performances by Best Coast and Shannon & The Clams":
Inner-City Arts opened their campus for a fundraiser on Saturday night. Summer on 7th promised a musical lineup that brought a crowd of a thousand people to their rooftop show, but there was plenty to take in before the music began.

The attendees milled around the classrooms and art spaces with opportunities to view art projects and installations. Films of dancers with sequined beachballs and actors in vegetable suits flickered on screens in a black box as attendees devised mammoth erector set creations.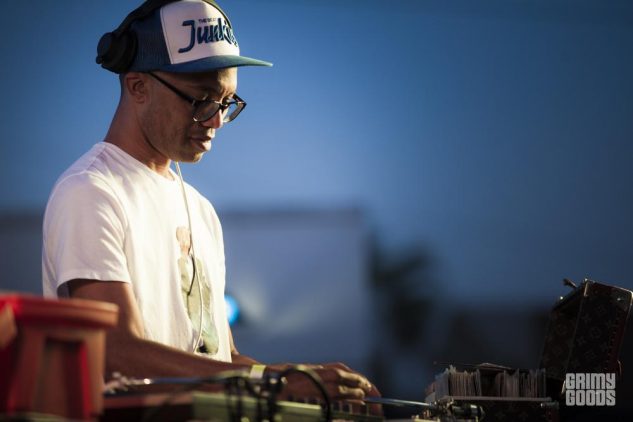 Peanut Butter Wolf spinning during a special 45s B2B set.

The Summer on 7th concert itself was on the rooftop of the main campus building where a stage was setup against the backdrop of the downtown Los Angeles skyline. DJ's Peanut Butter Wolf and J.Rocc collaborated and took turns spinning music for people. They readied the audience for the bands as the crowd danced and chatted.

As the sun began to set, Shannon and the Clams took the stage. Their 16-song set covered songs throughout their decade long existence but focused primarily on their latest album, Onion.

Retro kitsch would best describe the band's look, but their music transcends this clumsy classification. Bassist Shannon Shaw and guitarist Cody Blanchard took turns on lead vocal duties throughout the set except for their duet on "The Bog," a psychedelic freak-out tune from their Gone by the Dawn album.

Attendees at Summer on 7th learning about Inner-City Arts.
[
READ MORE ON GRIMY GOODS
]
Words: Jon Bostick
Photography: Wes Marsala