We want to (re)introduce you to all of the wonderful people who together make Inner-City Arts a magical organization! Our Staff Spotlights help recognize and celebrate our team members and the amazing work that they do.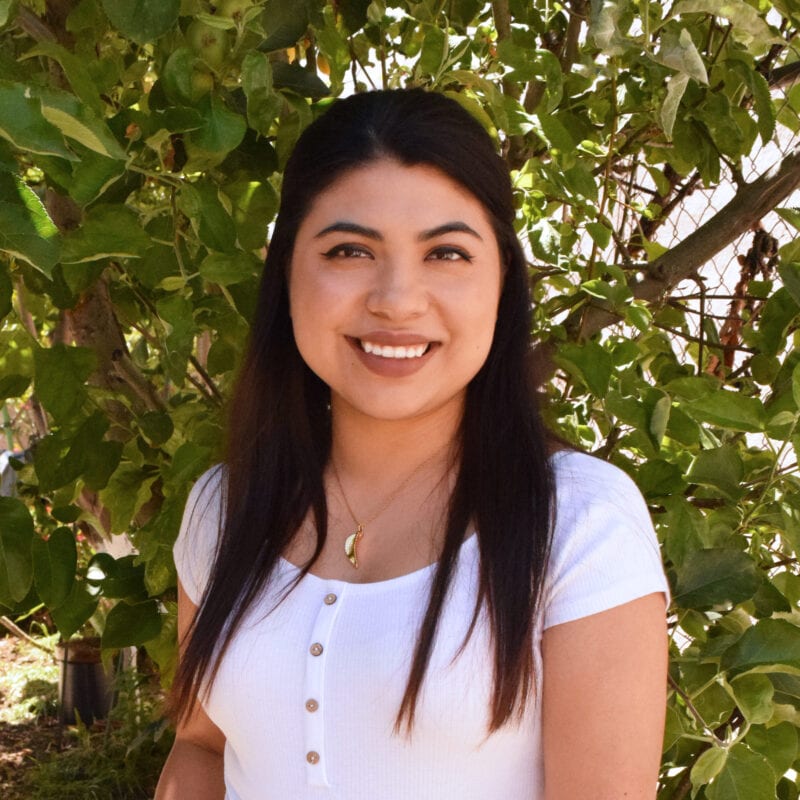 Cynthia Nava
Meet our visual and media arts Teaching Artist Cynthia Nava! Cynthia began teaching at Inner-City Arts right before the 2020 pandemic and has been an inspiring and dedicated teaching artist here since.
Find out more about her and her journey as an artist and educator below!
What does creativity mean to you?
To me, creativity means exploring and experimenting. Creativity is a process of trial and error and embracing the journey of figuring out how to translate your thoughts into tangible works of art. We all have creativity in us that fuels our happiness and wonder. Sometimes, somewhere along the way while growing up, we grow out of touch with our creative side because of societal expectations. That's why the arts and arts education are so important to remind us that we should continue to create art to stay connected to ourselves and to take care of our well beings, emotionally and mentally.
What are three traits that describe you?
I think three traits that describe me are colorful, fun, and creative. I love using bright and warm colors in my work. I think fun and creativity go hand in hand because I have fun creating art and illustrating fun pieces. Three other traits that describe me are bread enthusiast, cat lover, and color theory fanatic.
What led you to be a teaching artist?
I always loved creating art and exploring art even with the limited access I had to arts education growing up. I never took professional art classes throughout school up until I started college. I had such a great experience with my professors and mentors and I feel so grateful for all the knowledge I gained. I believe the best way to repay all those who have helped me learn about art is to continue to share my knowledge and pass it down onto others. I enjoy teaching students how to practice a mindset of exploration, growth, and creative wonder. I like to give my students the tools they need to explore their own artistic voices and see concepts click in their mind.
What would you most like to tell yourself at your students' age?
Keep doing what you're doing. The arts open so many doors and opportunities. Art is interwoven with every aspect of our lives. Living your truest self and doing what you love will be the most fulfilling way to live your life.
What do you aspire for your students to learn through their artistic and creative experiences?
I hope my students learn to be open to exploring their creative minds and feel confident in their decision making. Even when they're unsure of what exactly they are creating, learn to trust the process and enjoy the art of exploration and experimentation. I hope my students learn to appreciate the process of art making just as much as the art piece.
What do you believe to be your greatest strength in your personal life and/or the arts?
I think one of my greatest strengths is the will to keep moving forward. I think this is deeply rooted in my upbringing and where I come from. I keep moving forward and pushing forward, to make sure I am being the best version of myself I can possibly be. I never like to stay stagnant so I am always creating and finding new ways to exercise my artistic brain and feed my creativity. I make sure I am also nurturing my own personal craft alongside my teaching skills.
What keeps you creatively inspired? or How does art and creativity inspire your life?
Like most artists, I am inspired by my surroundings and I like to reflect my lived experiences and perspectives that are influenced by my background and culture. I really enjoy exploring color theory, and telling stories with my work. Color plays a big role in how we interpret things and influences our perceptions. I love using bright, warm colors in my work and that color palette makes its way to other choices of how I present myself to the world such as my decor and clothing.