We're happy to partner with The Posters, an e-commerce company that sells excellent prints and original art from emerging and established international artists. When each artwork is sold, The Posters gives a portion of the proceeds to Inner-City Arts. Their goal is to create an ecosystem that supports creativity. We're honored and grateful to be represented by these fine folks.
"Every three posters sold funds an hour of art classes for kids."
More recently, The Posters have begun offering some incredible original works. We encourage you to visit their site and check out the pieces they have available! Purchase great art for your collection, support new emerging artists, and benefit Inner-City Arts at the same time.
We've featured a few pieces they have available below. More can be found on their e-commerce site.
---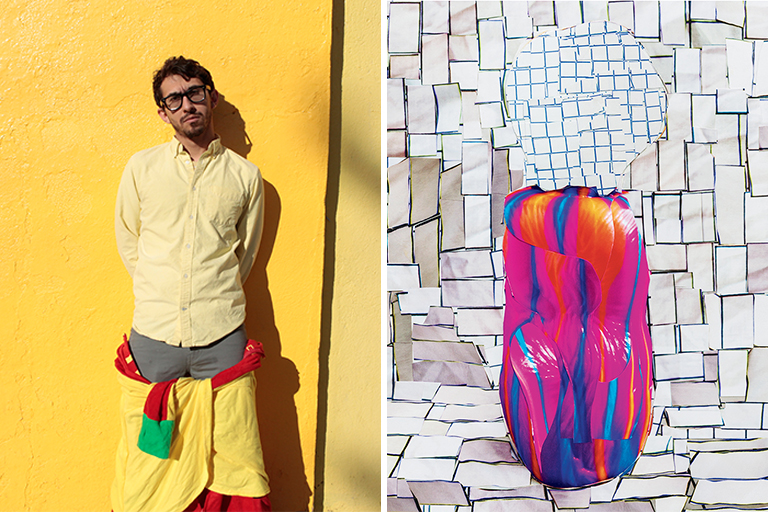 PAUL PESCADOR
REMAKE/POSTER, 2016
SIGNED BY THE ARTIST. Poster: 30 x 24″
"Remake" is the end of result of Paul's multi-step process of collage, photography and performance. Purchasing colorful and bizarre objects from the 99-Cent Store, Paul incorporates them again and again across disciplines, creating a narrative through line. He photographs still lifes and collages them until the original objects disappear and become an abstraction. In "Remake," the brightly colored avatar dead center was created from a plastic drinking cup shaped like a gorilla, and the background is densely tiled. The final product has been expanded and flattened, part of the continuous loop of Paul's practice.
His photography has been recently acquired by the Los Angeles County Museum of Art and the Massachusetts Institute of Technology Art Gallery.
---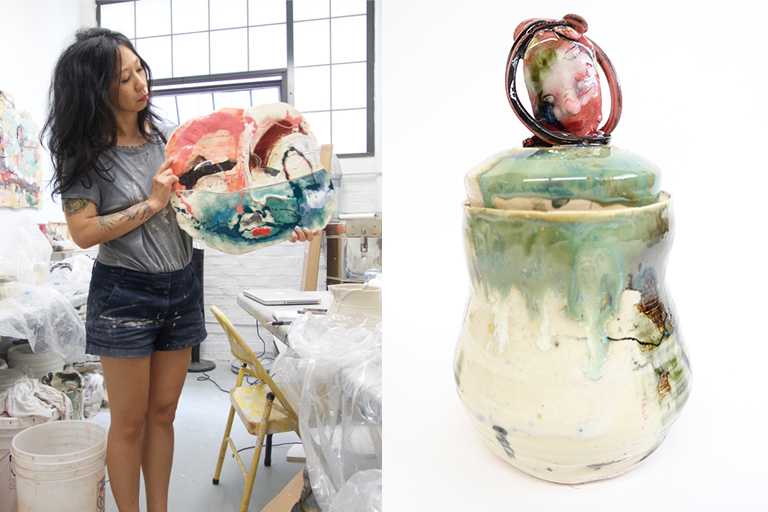 JENNIE JIEUN LEE
UNTITLED NO. 6/ORIGINAL CERAMIC, 2016
STAMPED BY THE ARTIST. Slipcast porcelain, stoneware, glaze and underglaze: approx. 7″ height x 4″ diameter
Jennie Jieun Lee is a ceramist known for her off-kilter shapes and painterly use of color. In her vessels Jennie taunts the Platonic ideal of a container; the mind registers the object before you as a vase or perhaps a bowl, but the eye sees chaotic, emotional gestures preserved in clay. Her creations are, themselves, a type of abstraction given depth then painted upon in a style evocative of Lee Krasner or Joan Mitchell.
Lee's work has been shown at Marlborough Chelsea: View Room, New York, Martos Gallery New York, 11R, New York, Cooper Cole, Toronto, Galerie Lefebvre & Fils, Paris, Levy Delval, Brussels, and The Pit, Los Angeles.
She is a 2016-2017 recipient of the Pollock Krasner Foundation grant and is a member of the Stanley Love Performance Group.
---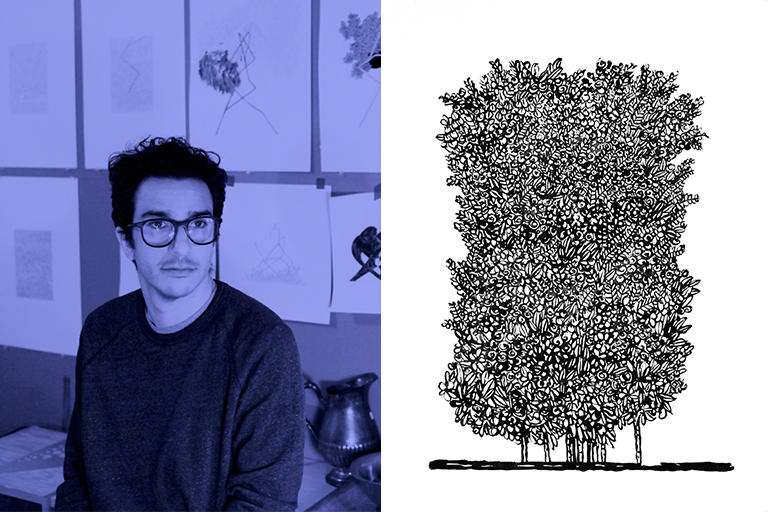 ALEJANDRO CARDENAS
FLOWER/ORIGINAL DRAWING, 2015
SIGNED BY THE ARTIST. Ink on paper: 24 x 18″
Alejandro Cardenas' work explores themes of the individual in nature and repetition: often through the serial depiction of characters or objects in the artist's signature black ink. In these works the image of a fern is drawn meticulously, over and over again until it becomes decontextualized; it is reimagined more as a series of shapes and patterns than it is an allusion to the plant. An imperfect, hand-drawn quality comes through, complimenting Alejandro's clearly intentional construction of depth and focus.
Alejandro Cardenas (b. 1978) has exhibited at James Fuentes Gallery, New York, Adam Baumgold Gallery, New York, and WhiteBox, New York.
With Lansing-Dreiden he has shown at Rivington Arms, NYC, Marc Foxx Gallery, Los Angeles, and the Hammer Museum, Los Angeles.
---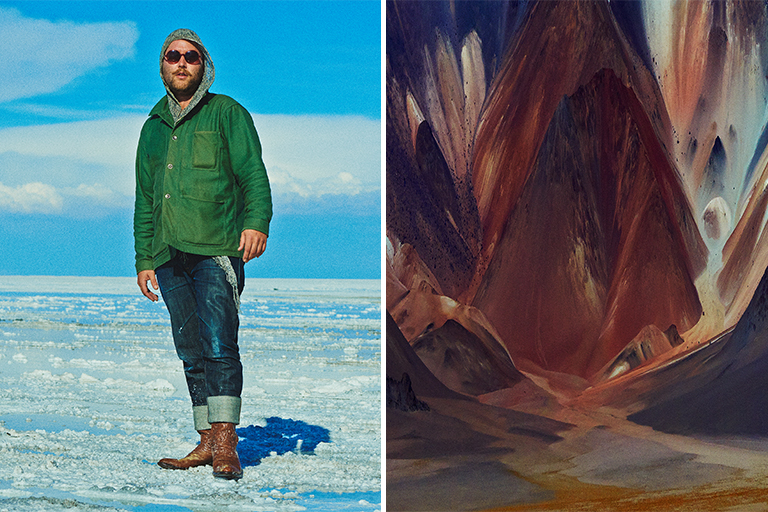 BRENDAN PATTENGALE
JUTTING MARBLE MOSAIC/ORIGINAL PHOTOGRAPH, 2016
SIGNED BY THE ARTIST. Edition of 5. Archival pigment print on photo rag paper: 26 x 18″
Brendan Pattengale's photographs are the result of extensive travel, as well as the artist's experimentation in light and depth. Utilizing nontraditional tools, Brendan is able to bring his own preference for color and texture to the genre of landscape photography. The titles of his works are often the only signifier of place, as the images themselves tend to be abstractions. Taken in Bolivia and Chile, Brendan's recent series reveres nature, but also pushes him to find new techniques to create his dreamscapes.