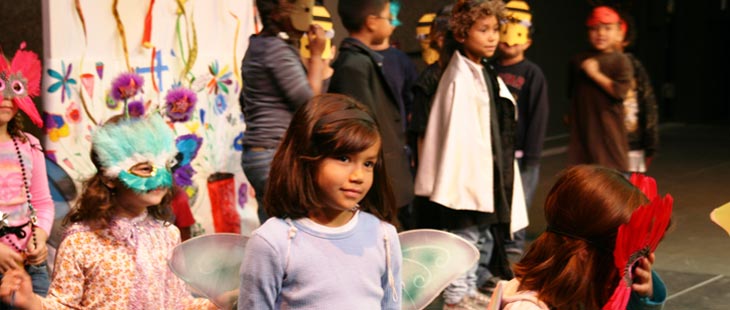 Shaped by observation of student need, research, evaluations and input from participants, all Inner-City Arts programs—for children and youth, for educators, for parents and families—are informed by the following principles:
Establishing a supportive environment for creative exploration in the classroom, through thoughtful delivery of student-centered curricula, builds bridges between the arts and other disciplines and fosters skills that support academic achievement, literacy and critical thinking.
Experiential learning, a cornerstone of the Inner-City Arts approach to arts education for children, is also an essential component of the Professional Development curriculum as well as programs for parents and families. With their own firsthand experience of the risk-taking inherent in any creative endeavor, teachers and parents are equipped to more fully understand the challenges students encounter in the classroom.
The non-judgmental art critique, practiced in all our studio programs, is introduced in every professional development program. Contrary to traditional studio evaluations, non-judgmental critiques emphasize observation and interpretation over skill mastery. Students with language and/or learning issues who are invited to describe their work and creative experience build language skills, achieve focus and acquire confidence, benefits that can be applied to all classroom work.
The co-intentional approach to learning, in which both teacher and learner, performer/creator and audience member come together in a dialogue to create unforeseen results.
Community-building and dialogue, promoted through shared experiences in the arts. We welcome opportunities to showcase diverse expressions of the performing, visual and media arts and are committed to maintaining long-term relationships with the individuals and organizations we serve.