"Working on the podcast was so much fun. We worked as a team to produce this work of art, and things were hectic at times, but we came together and it's amazing!" — Sienna Facundo
This week, students launched the Work of Art Radio with a podcast series for teens by teens titled "Artists in the Hood." From ideation to writing, hosting, producing, sound mixing, designing, editing, and social media managing, the Work of Art student leadership team has been working on the first season of their podcast for the past few months. This podcast features our students interviewing local artists and tackling difficult topics.
In Episode Two, hosts Alejandro S. and Cindy Q. have an honest conversation about art and mental health — speaking candidly about how art has helped them cope with anxiety, depression, and trauma. "I was very caught up in my issues – my anxiety and depression," shares Cindy. "Sometimes, I wouldn't be able to get out of bed or step out of the house […] So what I used to do, and what I still do, is put some music on and dance […] dancing puts me back into reality and makes me feel not alone — I'm with the music and I'm in tap with, like, my own self."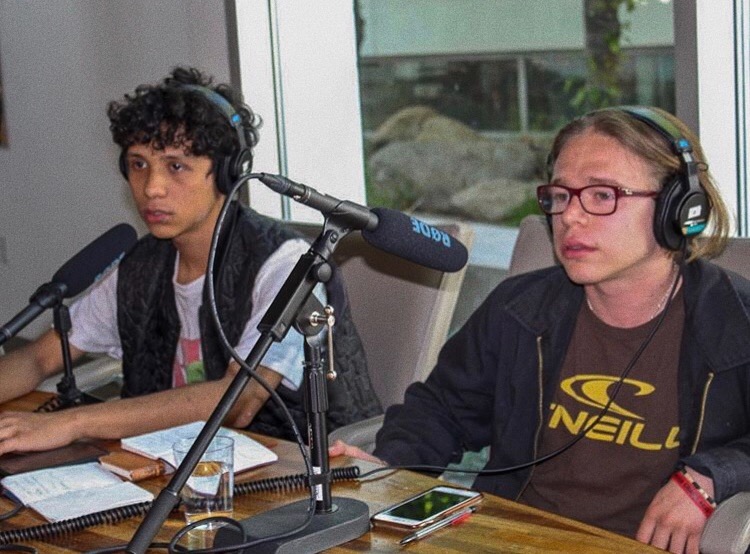 With guidance and mentorship from Inner-City Arts volunteer and professional voice-over artist Scott Netzel, students learned both the technical and creative steps involved in podcast production.
"The group I was fortunate enough to work with showed so much maturity, drive and creativity while producing an incredible podcast, which is no easy feat," said Scott. "I'm so proud of them! I Hope everyone enjoys this unique project as much as I have."
And now you can! Listen to all three episodes of Artists in The Hood on Work of Art Radio here.